Healing Strength Holiday Trio Kit
healing strength
Regular price
$116.00
Sale price
$77.90
Unit price
per
Give the gift of great hair with the Limited Edition Healing Strength Holiday Trio Kit! Designed for damaged or weakened hair, this Healing Strength Kit uses the CP Anti-Aging Complex, which provides keratin protein to replenish strength and elasticity. Plus the trio kit contains natural antioxidants that not only fortify strands but help protect against future damage.
A $116 value - 30% savings!

What It Does

The Manuka Honey Conditioner utilizes a natural humectant to attract and retain moisture, effectively hydrating and revitalizing dull, dry hair and scalp.
The White Tea Shampoo enhances hair strength and shine with anti-aging benefits from potent antioxidants and strengthening peptides.
The Neem Plant Silk Serum fortifies hair through internal strengthening, repairs damage, and offers enduring color protection for silky, shiny results.
Healing Strength Trio Kit Includes:
Healing Strength White Tea Shampoo (300 ml)
Healing Strength Manuka Honey Conditioner (250 ml)
Neem Plant Silk Serum (100 ml)
Free Shipping On Orders $75+
91261
View full details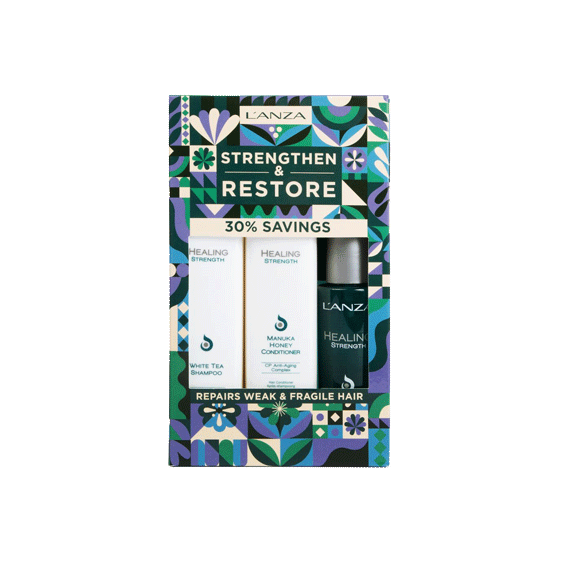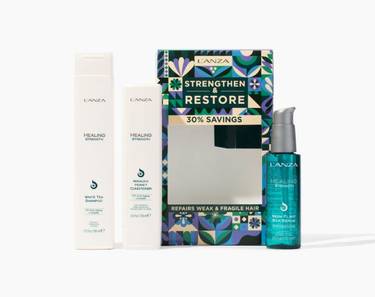 Key Ingredients
CP Anti-Aging Complex
Replenishes Cystine Peptides, essential building blocks of keratin protein naturally found in hair that help increase resiliency and elasticity. Builds vital strength into each strand, healing and diminishing signs of aging in hair.
Neem Plant
Rich in proteins, minerals, antioxidants and fatty acids, this natural oil fights frizz, soothes and conditions an itchy scalp promoting healthy hair growth.
Sunflower Seed Oil
Contains hydrating oleic acid which targets hair breakage. Also calms and relieves an itchy scalp. Also provides hair with crucial vitamins and nutrients to help protect against damaging environmental aggressors.
Sandalwood Oil
This moisture-rich oil targets and helps rid hair of excess sebum as it treats split ends and enhances hair luster and growth.
Lemon Fruit Extract
Contains antioxidants, vitamins and nutrients that rejuvenate moisture-depleted hair, strengthening hair follicles, encouraging hair growth and delivering a smooth, healthy-looking finish.
How To Use

Apply White Tea shampoo evenly to wet hair, lather, and rinse thoroughly. After shampooing, apply Healing Strength Manuka Honey Conditioner generously through hair. Rinse thoroughly.

When To Use

Use White Tea shampoo daily or as needed for stronger hair. Apply Manuka Honey Conditioner after each shampoo for enhanced results.

ProTips

For optimal results with White Tea shampoo, follow with Healing Strength Manuka Honey Conditioner. For added shine and strength, apply Neem Plant Silk Serum to damp or dry hair. Blow dry or style as desired.